Hello everyone!
Torn Away by Jennifer Brown is one of my favorite reads of this year and I highly recommend you to read it if you are a fan of young adult books! You don't wanna miss it! My review will come on May 9th with a blog tour. 'm sure you are looking forward to it hihihi :P
Publisher generously offered a paperback to one lucky winner. Unfortunately, it's US only. I wish you all good luck and I hope you will add this to your TBR pile. Trust me, it's worth it!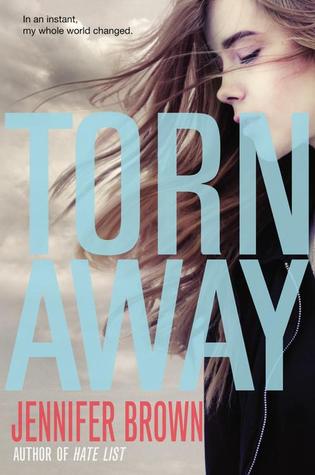 Born and raised in the Midwest, Jersey Cameron knows all about tornadoes. Or so she thinks. When her town is devastated by a twister, Jersey survives -- but loses her mother, her young sister, and her home. As she struggles to overcome her grief, she's sent to live with her only surviving relatives: first her biological father, then her estranged grandparents.
In an unfamiliar place, Jersey faces a reality she's never considered before -- one in which her mother wasn't perfect, and neither were her grandparents, but they all loved her just the same. Together, they create a new definition of family. And that's something no tornado can touch.
a Rafflecopter giveaway